High quality, low risk and surprisingly affordable coatings for new build multi-storey car parks
StructureCare install more m² of liquid applied coatings to car park structures than anyone else.
   With over 500,000m² applied in the last 4 years - that's almost 70 No. Wembley stadium pitches, we provide a unique and unrivalled single point of responsibility proposition.
It's NOT becuase we are the largest contractor in the UK or have a longer track record than anyone else.
      It's NOT because our team has over 100+ years combined experience in this field.
It's NOT even because our in-house UK manufactured Deck Protect+ coating is the only hybrid technology system on the market with exceptional crack bridging capabilities tested to BS EN 1062-7 4.2 to -20°C.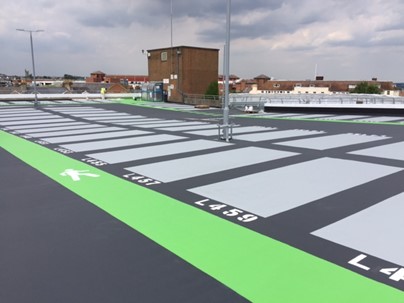 It's because we understand that every new build project is different. Whilst car park decks are essentially 'floors', the application of deck coatings to often 'green' and exposed concrete slabs is very different to industrial flooring.

We also appreciate the inherent risks of employing specialist sub-contractors in these challenging economic times, and have therefore strategically ensured that our financial solidity is incomparable and our single point of responsibility guarantee truly meaningful.
Recently completed projects:
* Joint winners of 2018 BPA Best New Car Park
 
Please click here to read more about StructureCare capabilities or click here to find out more about the UK's most widely used car park deck coating DeckProtect+.
 
If you have a new build car park project in the pipeline, we'd love to hear from you.